Ruggedized UPS
Designed and developed for Command, Control, Communications,
Computers, Intelligence, Surveillance and Reconnaissance.
Ruggedized Military Uninterruptible Power Supply Standalone UPS
Our Modular Stacking Concept Allows the Design Engineer or End User to Configure and Re-configure the Needed Power Services as Needed to Meet the Ever Changing Operational Demands of Deployed Environments.
Our UPS technology has been designed for the extreme environmental and demanding electrical conditions of military applications. We have developed the smallest and lightest UPS Product Line on the market. This UPS Product Line provides a clean AC or DC Input Power Supply that works in harsh environments and delivers a well-conditioned AC output to the load.
PowergridM Ruggedized Rackmount Uninterruptible Power Supply Advantage
The PowergridM Modular Design Provides Significant Advantages When Applying Effective Power Management Solutions to a Wide Variety of Harsh Environment, Deployable, and Mobile Applications. Ruggedized Rackmount Uninterruptible Power Supply, Ruggedized UPS
Our modular Stacking concept allows the design engineer or end user to configure and re-configure the needed power services as needed to meet the ever changing operational demands of deployed environments.
This modular stacking capability significantly enhances the operational flexibility of the provisioned power service and facilitates the Plug-&-Play incorporation of either resiliency or redundancy to ensure sustainable power management services for operationally critical applications.
More Power Support, More Operational Life. Rugged Military UPS.
For enhanced operational support and significant reductions in logistical support and associated costs, the PowergridM Product Line is designed to exceed a minimum of 100,000 hours (11+ years) of operational support without failure or battery replacement.
The PowergridM modular high reliability design makes it the most operationally reliable and cost effective power solution on the market today. Learn more about Ruggedized UPS and Ruggedized Rackmount Uninterruptible Power Supply.
The modular Stacking System allows our customers to configure and re-configure the needed power services, from 800 Watts / VA UPS to 12,000 Watts / VA UPS. To learn more about our Stacking system or UPS Technology, please do not hesitate to call our office today at (813) 996-2583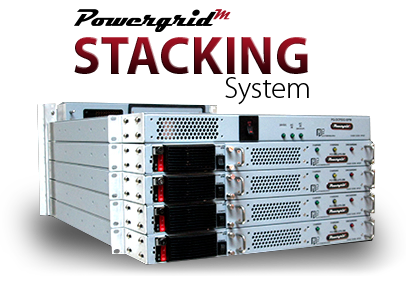 1U 800 watts UPS – Standalone Stackable to:
800 watts UPS | 1600 watts UPS | 2400 watts UPS | 3200 watts UPS
1U 800 watts UPS – BackPlane Stackable to:
1600 watts UPS | 2400 watts UPS | 3200 watts UPS | 4000 watts UPS
1U 1000 watts UPS – Standalone Stackable to:
1000 watts UPS | 2000 watts UPS | 3000 watts UPS | 4000 watts UPS
1U 1500 VA UPS – Standalone Stackable to:
1500 VA UPS | 3000 VA UPS | 4500 VA UPS | 6000 VA UPS
1U 1200 watts UPS – Standalone Stackable to:
1200 watts UPS | 2400 watts UPS | 3600 watts UPS | 4800 watts UPS
1U 1500 VA UPS – Backplane Stackable to:
1500 VA UPS | 3000 VA UPS | 4500 VA UPS | 6000 VA UPS | 7200 VA UPS
1U 1200 watts UPS – Backplane Stackable to:
1200 watts UPS | 2400 watts UPS | 3600 watts UPS | 4800 watts UPS | 6000 watts UPS
2U 3000 VA UPS – Standalone Stackable to:
3000 VA UPS | 6000 VA UPS | 9000 VA UPS
2U 2400 watts UPS – Stackable to:
2400 watts UPS | 4800 watts UPS | 7200 watts UPS