Bring Your Most Difficult Power Challenges and We Will Provide a Solution
To Engineer and Manufacture Highly Reliable Military Power Solutions to a Wide Range of Different Customers.
PowergridM a Prodcut Line of AJ's Power Source Inc. located in Land O Lakes, FL. PowergridM competitive advantage is due to its long history of supplying highly reliable products and designs that are unique to our customer's requirements. PowergridM Product Line is staffed by experienced power supply designers, with over 100 years of combined power supply experience. PowergridM has the complete capability to design metal components and printed circuit boards to accommodate all elements of the system.
Our engineering team designs and develops military alternative energy & custom power solutions. These power solutions include Standalone UPS, Ruggedized Pluggable BackPlane, UPS Battery Expansion, VDC UPS Systems, Ruggedized COTS Power Supply, VAC & VDC – Power Distribution, Spare Battery & Expansion Modules, System Cable Assemblies, Accessories, Modular and Standard configurations including Rackmount, chassis, fully enclosed, Base plate and custom chassis. PowergridM can meet all standards from Industrial Power to Military Power including UL, CE, TUV, MIL-STD-810, MIL-STD-461, MIL-STD-1275, MIL-STD-1399, MIL-STD-704 to name a few. All power requirements including AC/DC, DC/DC and DC/AC from current levels of a few amps to thousands of amps (0-20,000 Watts) can be accommodated.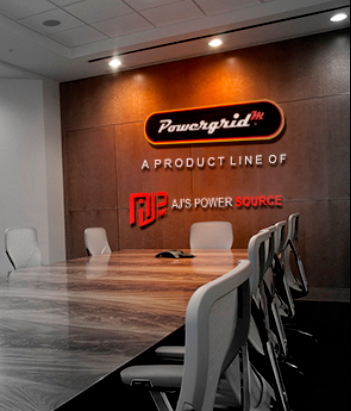 AJ's Power Source Inc. Designs and Manufactures the PowergridM Product Line.
AJ's Power Source Inc. Is a leading edge supplier of ground, airborne, and Naval power systems to prime contractors of the Department of Defense, US Government Agencies and its allies.
As a long time supplier to government contractors, AJ's has supplied uninterruptible power systems (UPS) for many different military programs over last 25 years. AJ's has also supplied high end power solutions to the Navy, Air Force, Army, Marines, and Coast Guard.