Resilient Non-Stop Power
We have developed the first Military Ruggedized
UPS with Resilient Non-Stop Power Support.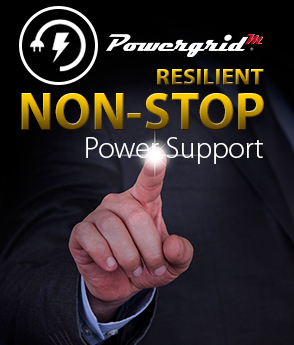 The PowergridM BackPlane Stacking System is Designed for Non-Stop Power Support
By stacking UPS modules in a BackPlane configuration, leveraging the PowergridM Load Balancing design, if a unit should fail, the operator is notified via SNMP based network signaling, and the adjacent units load share up to carry the load with no disruption to the attached equipment.
The First Deployable Power System Designed to Directly Support Critical Applications and Systems.
For operationally critical environments requiring Non-Stop Power Support, PowergridM offers the ability to configure multiple levels of power resiliency up to and including fully redundant power support. This capability ensures operational availability is maintained to the highest level.


For most operationally critical applications where a UPS or primary power failure can have serious impact on the operational tempo or ability to maintain mission readiness, the reliability of the power management system can be as critical as the application itself. The first primary measure of the reliability of a UPS system is its Mean-Time-Between-Failure (MTBF) either calculated or measured. The advanced technology design of the PowergridM Product Line is based on achieving an MTBF in excess of 100,000 hours with the new PowergridM 1500 Watts Standalone UPS design calculated in excess of 150,000 hours or, over 15 years of non-stop operational performance without failure including batteries.

To further enhance the operational reliability, PowergridM hosts a passive Load Balancing Interconnect (LBI) design that allows individual unit to be connected and "stacked" to form an Integrated Power Management System. This LBI design allows individual units to communicate via a passive LBI power communications bus structure allowing the connected units to communicate to maintain synchronization of their output waveforms, manage harmonic distortion, and perform load balancing of the attached load. This Intelligent Stacking capability allows PowergridM units to be configured in either Resilient or Fully Redundant configurations providing a level of power management service reliability not seen before in the rugged power market. As a modular system with proper planning of the power margins, in-rush demands, operational loads, and operational environment, PowergridM can be configured to meet the operational availability requirements of nearly any critical application.

With the advent of the PowergridM IPMS BackPlane System, lengthy operational downtime due to UPS failure is a thing of the past. Where other Rugged UPS single string units can take many hours of downtime to perform a average repair/replace maintenance activities, the PowergridM design dramatically shortens that Mean-Time-To-Repair (MTTR) from hours to a few minutes without power down or loss of operational availability of critical systems. The PowergridM BackPlane hosts Hot Swap Plug-&-Play module slots combined with a stainless steel slip pin design on each of the plug-in modules rear bracket connections, allowing modules to be removed and replaced from the front of the unit with no rear access required without powering down the system and impacting the attached operational equipments. Even the fan assemblies within the BackPlane are designed for rapid hot swap remove and replace maintenance and are secured with four thumb screws and one quick disconnect plug supporting a MTTR of less than 4 minutes without system downtime.
We have developed the first Military Rugged UPS with Resilient Non-Stop Power Support. Get Started Today! (813) 996-2583.
To learn more about this feature, and our PowergridM Special Features, Please Contact Us online, we will provide you the best custom power solution that best fit on your needs. Call us now at (813) 996-2583 our experienced Representatives will be glad to help you.